Thought Leadership
#23NTC Recap: 5 Takeaways from this Year's Nonprofit Technology Conference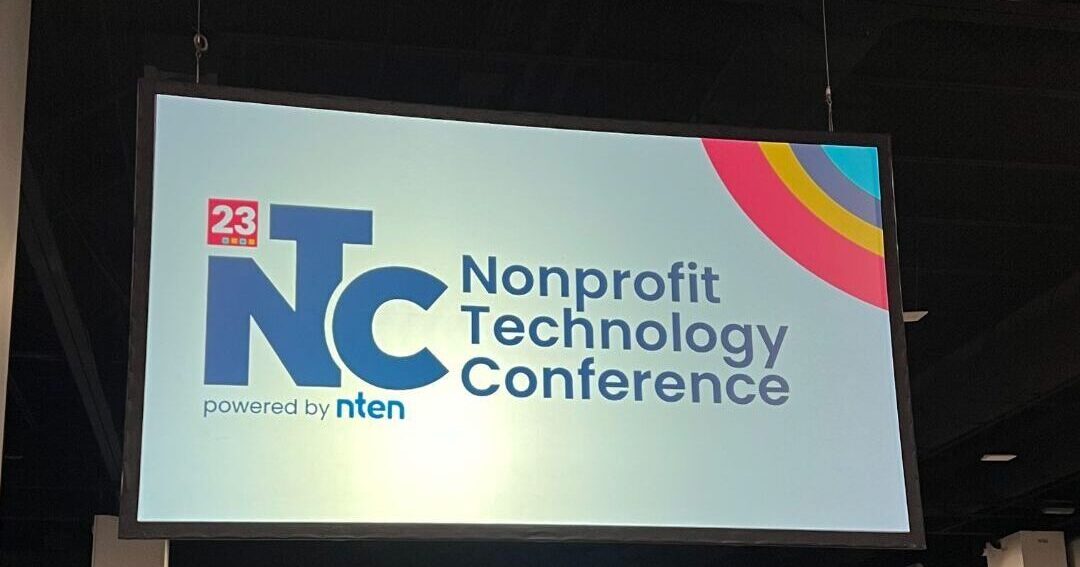 Several members of the Town Hall team attended 23 NTC to discuss nonprofit marketing and technology with partners, peers, and a group of overall super smart people. There were lots of topics discussed at the conference from privacy to AR, AI, and automation to organization and planning and best practices. With so many sessions, there's a lot to unpack from the conference, so we're happy to share several takeaways that we found interesting.
1 – Technology is a Practice Not a Tool
An interesting idea presented in the first keynote from Dr. Safiya Umoja Noble is that people should think of technology as a practice (social, economic, and political) instead of just a tool that is either good or bad. By taking this approach, people can start to unravel technology and view it through a different lens.
The keynote focused on how underserved communities are often BETA testers of technology and do tend to think of tools as good or bad. There are examples where these communities have taken a hold of the technology (often at the dismay of its creators) to use it in the way that they see fit. 
This idea stuck with me for several reasons. Often when we approach something as a tool, we then expect it to be a magic bean or a silver bullet (the conference was in Denver after all). When we think of technology as just tools in a toolbelt, the conversation often goes to this place where new technology is often bought and then abandoned because the thing we bought it to do worked well or poorly. 
2 – Personalization is a Mindset as Much as it's a Tech Stack
Okay, we couldn't resist putting one of the takeaways from a session that we led into our list of top 5 takeaways (obviously). It fit within a larger narrative about thinking outside of the box that was felt throughout the conference. 
Technology is needed, but today most (if not all) nonprofits have some sort of technology stack. They have a website or social profiles. They send emails or social messages. They have access to free/low cost tools to collect and aggregate data which provides the ability to have a conversation with donors and potential donors. These are the things that make up the foundation of personalization, which is something that according to some studies more than half of nonprofits already do in some form. 
The challenges to achieving personalization at scale are often organizational ones, not technological ones.
3 – Communication Across Teams is a Challenge
Communication across teams seemed to be at the top of a lot of attendees minds as they wrestled with how best to communicate and coordinate across teams. In most of the Q&A that followed sessions (ours included) there was a question or two about how to break down some of the barriers that had been placed between teams. 
The positive side of this conversation is that the majority of people recognize the power of an ecosystem working together. The challenge is that people are struggling with how to actually break down the internal communications barriers to create a truly unified one. From getting on the same page about the definition of words, to the idea of ownership, to the simple dissemination of information explaining why there are differences in behavior across teams are all examples. 
I wish I had the answer to these questions, it's something we're helping several of our clients improve and something that 23 NTC showed to be top of mind for nonprofits of all sizes. 
4 – Stories Can Help Make Decisions
In one session about how end-of-year giving can do more than just drive donations but also can build and reinforce a brand, the concept of starting every campaign with a story to drive the decisions that need to be made throughout the campaign was discussed.
We LOVE this concept for many reasons. People remember stories, so this approach to starting your campaign with a Mad-Lib type story allows everyone to get on the same page with the goals, approach, and desired results of the campaign. 
Here's a picture from the session that shows the formula for starting your next campaign with a story.
As a way to help teams talk more and better communicate, having a process where everyone buys into the campaign story at the start is a great way to start to ensure that people are on the same page.
5 – Expert Advice is a Starting Point, Not a Roadmap
Okay with our last takeaway we'll take a slice of humble pie. This is a great adaptation of the old adage "you have to know the rules to break them."
Yes, Town Hall has experts across several disciplines. And yes our team understands the needs of nonprofits and the solutions, technologies, and processes that often help nonprofits succeed. We know social media best practices and how to tell compelling stories. And we know that everyday technology changes, donor preferences evolve, news cycles report on the latest happenings and every organization is different. 
It's important to start in a place of best practices… and to test everything. This session was specifically about social media, but it is true across the entire organizational ecosystem. Starting with a best practice and testing what works for your organization is key. If everyone does the same thing (best practice) no one stands out. Innovation doesn't happen. Potential isn't realized. 
We're grateful to have attended, led and participated in as many conversations as we did while we were in Denver. We look forward to continuing many of these conversations and bringing solutions to organizations who are making the world a better place one day at a time. We love working with passionate, smart people and that is who filled the attendee list at 23NTC. We can't wait to see where the conversation is at next year's NTC!  
Join the conversation
To get the latest news, sign up for our bulletin.